Neelam Mathews
April 14, 2015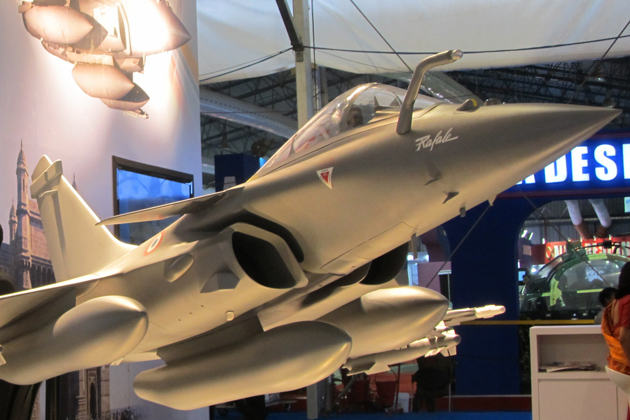 India's new government has put its sluggish defense procurement on track by ordering two squadrons for 36 Dassault Rafales.
Indian Prime Minister Narendra Modi announced the order during his recent visit to France. The buy includes life cycle support and 50% offsets.
The 126 Medium Multi Role Combat Aircraft (MMRCA) has been lying in cold storage over the liability clause on the Rafales produced by Hindustan Aeronautics (HAL) that Dassault was to be held responsible for.
By buying the aircraft in flyaway condition, this will no longer be an issue. For the fighter squadron-starved Indian Air Force (IAF) looking to replace its obsolete MiG-21s and MiG-27s, the announcement has come as a lifeline.
While official figures state the squadron strength at 34, Shephard has learnt it is less than 28.
The original contract for the 126 included 18 in flyway condition and the rest were to be produced in India under transfer of production by HAL. Modi, referring to France as a partner said given 'the critical operational necessity,' India wanted the Rafales on an urgent basis and the terms and conditions (of the contract) would be modified accordingly.
'The direct buys will adjust the price inflation Dassault has been complaining about following the delayed decision and ensure its profitability. This is a win-win for all,' a finance ministry official said.
The first Rafale is expected to be delivered in early 2016. If Dassault ramps up production from six to eight a year, it is likely all 36 will be delivered to the IAF in four years, a MoD official told Shephard.
There is a grey area on the remaining 90 to be produced in India. While IAF Chief Arup Raha had said at Aero India 2015 in Bangalore, India would not buy more Sukhoi Su-30s instead of the MMRCA as the 'two types are complimentary to each other,' it is likely India could be looking at 60 more Rafales instead of 90 and 30 Su-30 MKIs.
With HAL busy with numerous new projects including light utility helicopters and the fifth generation fighter, Shephard learns the production could be thrown open to the Indian private industry.
According to the Request for Proposal for the MMRCA, the 18 flyaways comprised 12-single and six twin-seaters that were to be delivered within 48 months with the complete weapons package. The weapons and stores package includes anti-radiation and anti-ship missiles, a reconnaissance pod, and a buddy refueling.