MARITIME SECURITY
10th April 2015 - 15:39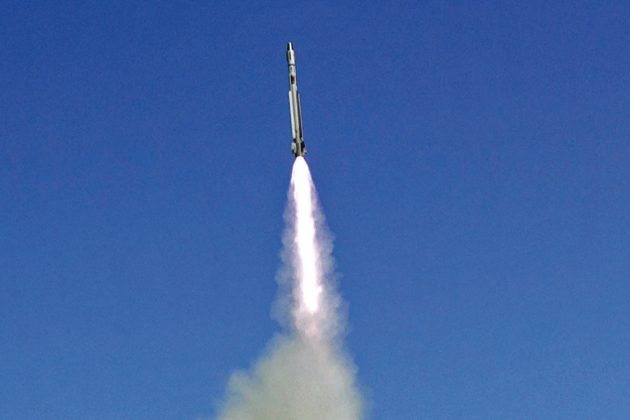 Following a seven-year wait India's Defence Acquisition Council has cleared the way for production of the Short Range Surface-to-Air Missile (SRSAM) for the Indian Navy.
It has opened up the possibility of dialogue between manufacturer MBDA and the Defence Research Development Organisation (DRDO) following a visit by Indian Prime Minister Narendra Modi to France and Germany on 9 April.
The original project was called 'Maitri' and it envisioned development of truck-mounted SRSAMs for the Army to replace Russian Strella SAMs, Indian Air Force OSA-AKMs, and Indian Navy's OSA-M. Delay in a decision led to the Army and IAF purchasing indigenous 5.6m long, 25km range 'Akash' SAM.
The IAF is inducting eight Akash squadrons, and the Army two regiments, of which one will be supplied shortly. Akash failed to meet the Navy's requirements for the system that includes fire control systems, radar and weapons.
Problem areas included: 'how to cater to yaw, pitch, storage on ships because of saline water conditions,' an MoD official told Shephard. In addition, the ship being unsteady, requires a system 'that is like a rock.'
Meanwhile the army programme for its SRSAM is continuing and companies are aligning themselves for the ground based air defence competition.
The Navy needs nine SRSAMs with 40 missiles each. While it is not yet clear what shape the collaboration will take, MBDA may provide the active homing-head, thrust vector control, terminal guidance system, and composites for a modified propulsion system, while the software, command-and-control system, launchers and system integration is to be carried out by Indian agencies.
While this is to be a new missile, Shephard has learnt, it could be based on MBDAs Vertical Launch Mica (Naval) system to counter attacks by anti-ship missiles.
VL Mica (M) has a multiple target capability (autonomous guidance, extremely short reaction time) and all target capability (aircraft, missiles, PGMs, smart bombs and helicopters).
It is integrated with the ship's combat system, which provides target designation data from existing air defence sensors. The missile is launched from an individual storage container providing 360° engagement coverage, maintaining ship stealth and stability.
The bid was floated in 2007 but India and France only signed a MoU during the visit of the French President Francois Hollande to India in 2013 for production.
The project will provide a boost to the 'Make in India' policy, a navy official said that a lack of commonality in military equipment among the services is seen as 'wasteful' and that 'Commonality is good for inventory that is homogenous as joint use and purchases can bring in economies of scale.'