LAND WARFARE
India's medium tank won't clash with Arjun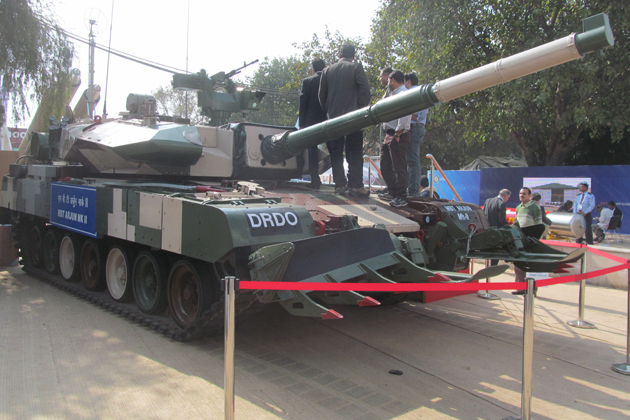 The Indian defence minister, Manhoar Parrikar, has stated that Indian Army requirements for a medium tank are not in conflict with the
Arjun
Main Battle Tank (MBT).
He said on 4 August that the need for 2,545
FRCV medium tanks
are to meet futuristic requirements beyond 2027 and won't affect orders for Arjun.
Meanwhile, Shephard has learned that the date for submission for the Army's Request for Information (RFI) for the FRCV design has been extended to 30 August.
This is because industry was finding it difficult to respond to the initial six week deadline.
According to the RFI, 'the FRCV will form the base platform for the MBT which is planned to replace the existing T-72 tanks in the Armoured Corps.'
While the skimpy six-page RFI has been criticized on its sketchy details an official said that it is 'just an attempt to register future vendors,' and the Army is clear FRCV needs to be developed on a modular concept with flexibility to address its requirements of different terrain configurations.
The RFI added: 'It can provide the base on which a "Family of Vehicles", can be developed.' The variants planned on the FRCV platform include: a Tracked MBT (the primary variant); tracked light tank; wheeled light tank version; bridge layer tank; trawl tank and mine ploughs.
An armoured recovery vehicle; self-propelled artillery gun; and air defence gun/MSL system, are others. The Army wants a design first and they could choose up to two designs which the government will pay for. Companies will then quote for the production.
At the moment there is little detail in the requirements, it is just an expression of interest, but the Army will select the designs depending on how these develop.
International OEMs likely to participate include: Rafael, General Dynamics and Uralvagonzavod that will tie up with Indian prime companies.
'The programme gives weightage to financial position of the company. This project will require over nine players that will include an OEM for turret…..Of the 34 technologies required for the FRCV, 22 are related to mobility,' said a defence official.
Furthermore after the Joint Venture, Defence Land Systems India (DLSI) between BAE Systems and Mahindra & Mahindra was dissolved in 2013, the investment made in training and a factory built around BAE's production processes might find the partners coming together.
The official said Tata Motors seemed to be the most ready to address the programme with its experience of developing the 8x8 amphibious AFV, Kestrel, with Defence Research Development Organization.
Furthermore, Dynamatic Technologies has been involved with the MoD for over two decades as developmental partner for T72 battle tank components and with Arjun, supplying the bulk of the hydraulic system.
An Army spokesperson told Shephard that Dynamatic is likely to participate because the company 'has in-house capability to design simulators, a key component on future generation combat vehicle programmes.'
Others in the fray include Indian primes, Punj Lloyd, Bharat Forge, T.....read more on Shephardmedia (subscription)