RotorHub
Neelam Mathews
Apr 10, 2015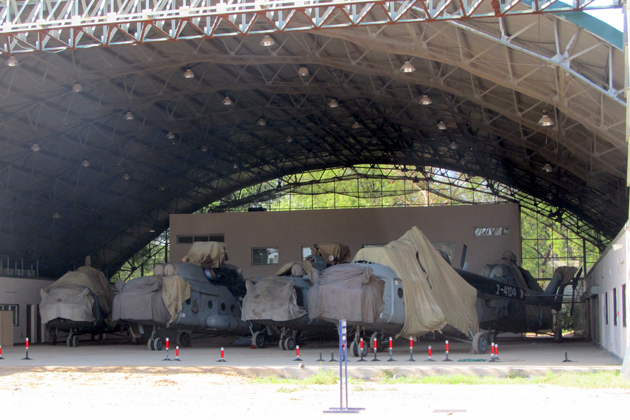 The first two of eight medium lift
Mi-17 V5
helicopters were inducted by the Indian homeland Border Security Force (BSF) Air Wing inducted on 9 April.
However five of six earlier Mi-17 IVs bought in 2003 remain festering in a hangar for lack of spares and training as a result of a turf war between the BSF and Indian Air Force (IAF).
With a maximum takeoff weight of 13000kg the new V5 aircraft will provide a boost to the starved capability of the force that operates in arduous and inhospitable conditions of rebel-invested areas and on India's vast northeast, west and eastern borders.
However, the buy has brought in a reminder of the acrimony between services and which assumes responsibility for the helicopters.
(Pixs by Neelam Mathews (Copyright))
Deliveries will be completed by the end of the year and BSF Director General Devendra Kumar Pathak said: 'The challenge lies ahead in operationalising this platform as early as possible to build the requisite infrastructure and air bases to operate the helicopters in the sectors they are most needed.'
BSF is now also responsible for guarding the over 1640km thickly forested Myanmar border ripe with smugglers and insurgents, making the new V5s with night flying and upgraded avionics ideal to suit the harsh conditions.
With road links sparse in remote areas, the helicopters are a lifeline for providing reinforcements, search and rescue and casualty evacuation.
However the air wing of BSF, conceived by the Ministry of Home Affairs to give the paramilitary air power and reduce reliance on the IAF over 15 years ago, continues to be caught in the fire of a turf war between the two forces.
In addition to the idle Mi-17s, dissatisfaction has spread to 20 BSF pilots that trained for Mi-17 IVs and who have not flown for over a year, because retraining has not provided by the IAF.
'This can be hazardous and frustrating…..The IAF has a stranglehold on aviation. BSF pilots are not encouraged. While the pilots were promised conversion training by IAF to V5s, it was nullified. BSF will never be independent as was originally envisioned,' a Ministry of Home Affairs official said.
At present, sources suggest that there is an agreement has been reached with the IAF to train 25 crew for line maintenance and basic checks for the V5s with the higher checks are to be done at IAFs Base Repair Depot in Chandigarh in North India. BSF is hoping IAF will train more crew but this has not been officially confirmed.
Meanwhile there is a move in the MoD to review procurement requirements of the military and paramilitary forces.
'It is time to learn lessons from countries like Spain to bring in economies of scale among the forces that share equipment according to need and have a common pool of pilots, training and maintenance under a single head,' a defense official said.
BSF has given enough reason to the government to make a start.