DEFENCE NOTES
03rd March 2015 - 14:46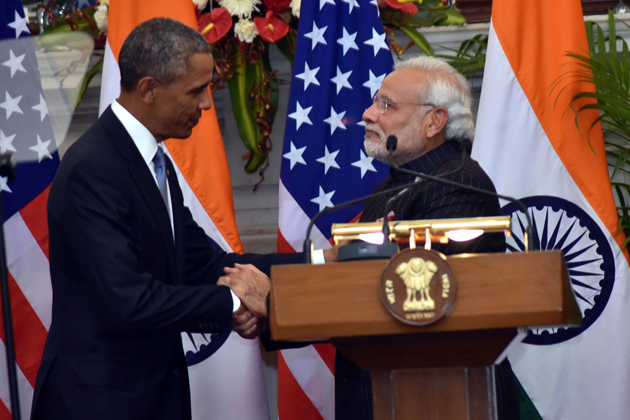 The US-India Defense Trade and Technology Initiative (DTTI) appears to be at a standstill.
Three unsigned agreements remain to be signed before the four Pathfinder projects that will introduce co-development and co-production of defence equipment with the US move forward. They have as yet not been approved by India because of sovereignty issues.
Speaking to Shephard at a media briefing, Frank Kendall, US under-secretary of defense for acquisition, technology and logistics, said the Communication Interoperability and Security Memorandum Agreement (CISMOA) 'is an important agreement. We would like to get that in time.'
CISMOA is one of the three agreements and is the administrative framework for sharing communications.
The other two include the Logistics Support Agreement (LSA), a cross-servicing agreement, to enable the two militaries a quid pro quo for logistics support, refuelling and berthing facilities for warships and aircraft; and the Basic Exchange and Cooperation Agreement for Geo-Spatial Cooperation (BECA).
The US has said that these are technology enablers that will enable transfer of avionics to India. The DTTI was first signed in 2005 and extended by another ten years to 2025 during the recent visit of President Obama in January 2015.
It is not yet clear whether progress of the announced Pathfinder Projects - plus two more to be added - will depend on India signing these agreements. The previous Indian government was also reluctant to sign.
Shephard has learned that two joint working teams to execute these projects including getting licence clearances, have been formed as the next step to iron out implementation issues for Aircraft Carrier Technology and on Designing and Development of Jet Engine Technology.
Kendall is confident that DTTI will include technology and co-development. He has made eight trips to India in the past two years and believes times have changed.
Despite 'twists and turns' in the trade cooperation, he said: 'We can do things together….DTTI involves confidence and trust….For U.S, this is our commitment to the future.'
He added: 'This is a new government, new threshold, and new discussion on time-frame…We are optimistic we can match your needs.'
The Pathfinder projects include
AeroVironment
developing the next generation Cheel UAV along with Dynamatic Technologies. According to Udayant Malhoutra, CEO of Dynamatic, the prototype is expected to be ready in 12 months.
Other projects include: a roll-on roll-off cargo modules for disaster-relief operations for the C-130J tactical transport aircraft with designs found through an inter-university competition in cooperation with Lockheed Martin; General Atomics Electro-Magnetic Aircraft Launch System for India's second indigenous aircraft carrier; and hot section jet engine technology by GE for unspecified projects.