Mention the words 'Woman Pilot' and the name of Amelia Earhart, stuck in history archives like an olive in brine, might be flung at you. Not so much in India, which has seen definite growth in the number of women serving as pilots, with percentages running into the double digits. By comparison, women account for a meagre 6% of pilots globally.
And though it might be paradoxical that a developing country – which is under scrutiny for its treatment of women after a number of brutal, high-profile assaults – could well have the highest percentage of women pilots, India is also the second nation in the world to have had a woman prime minister in 1966 after Sri Lanka.
Sanjiv Kapoor, COO of budget carrier SpiceJet, tells RGN: "India is a complex country that operates at many levels. There is a professional class that is progressive and then, there is an underbelly…"
Following his gut sense and using Twitter as a tool for "creating awareness and recruitment" among the younger generation, Kapoor asked women SpiceJet pilots and cabin crew to address queries about women and aviation for the full day yesterday, which was International Women's Day.
The aim was "to bring into open the mystique and glamor of the profession", says Kapoor.
The carrier also yesterday operated 16 all-women crew flights. Passengers applauded when they learned the news, and the crew "took a bow. Now the stupid jokes about women pilots are on their way out," says Kapoor, who later noted on Twitter that all-women flights are "a common occurrence" throughout the year, but on International Women's Day "we just do a lot more".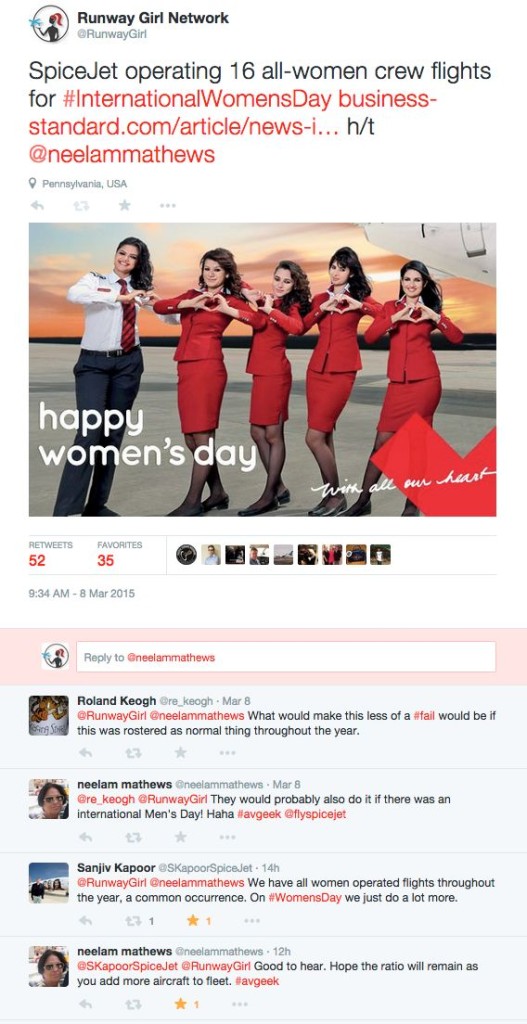 The SpiceJet executive is clear that recruiting for women pilots is not about gender, but rather about the fact that women have generally not considered it for a career until recently. "[Recruitment] is based on merit and training, which is .....
Read more on runwaygirlnetwork.com